A Shout-Out to Amazing Sheroes in IT
President of Tetra Defense, Cindy Murphy, recognizes important women in the field of IT:
"No computer is ever going to ask a new, reasonable question. It takes trained people to do that."

– Grace Hopper
My Sheroes!
Today, March 8, 2018, is International Women's Day. To mark the occasion, I want to celebrate some of the pioneering sheroes in the field of Information Technology. Without the accomplishments of these women, computing wouldn't be what it is today.  I wouldn't have had the opportunities that I have had in Digital Forensics and Incident Response without them.
Ada Lovelace:
Ada Lovelace, daughter of poet Lord Byron and Countess of Lovelace, was a mathematician, logician, and writer who lived from 1815 to 1852. This is obviously well before the age of computing, but her work and vision about computational logic are foundational.   As a teenager, her mathematical prowess resulted in a long-term working relationship and friendship with Charles Babbage, who is credited with inventing the first computer. She wrote what is widely recognized as the first computer program.
Ada believed in "poetical science" and spoke to the importance of intuition and imagination as critical components in applying mathematical and scientific concepts.  She explored the ways in which individuals and society could relate to technology as a collaborative tool and wrote about how numbers could be used to represent other things aside from quantity, including letters, musical notes, and other concepts. In this very fundamental way, Ada hugely impacted the future application of computing.
Edith Clark:
Edith Clark lived from 1883 to 1959 and specialized in electrical power systems analysis.  She studied Mathematics and Astronomy at Vassar College.  Edith later studied civil engineering at the University of Wisconsin (Go Badgers!) and spent her summers working for AT&T as a computor – a person who solves math equations.  She also attended MIT where she earned her Master's degree in Electrical Engineering. Edith had difficulty finding opportunities for women in her field and continued to work as a computor, for General Electric.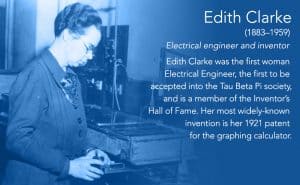 In 1921 Edith filed a patent for a "graphical calculator" to be used for solving complex electric power transmission line problems. Yep – that graphic calculator you loved so much as a nerdy high-schooler – you can thank Edith!
Also an adventurer, she traveled the world and taught Physics at Constantinople Women's College in Istanbul, Turkey, and later taught Electrical Engineering in Austin, TX.  Her accomplishments definitely qualify her as a pioneer both in electrical engineering and computing.
Hedy Lamar:
Hedy Lamar was born Hedwig Eva Maria Kiesler on November 9, 1914, in Vienna, Austria.  She was a successful, beautiful, and talented actress, and starred in a number of very well known films.  Aside from her accomplishments as an actress, Hedy was a brilliant inventor. In 1942, she patented her idea for a "Secret Communications System".  Her idea involved frequency-hopping signal technology which would prevent signal jamming and detection. Hedy's ideas are incorporated today in Wi-Fi and Bluetooth technologies.
Hedy's idea was somewhat before it's time, and wasn't used during World War II because technology hadn't caught up to it yet. Spread spectrum technology, Hedy's idea, is now fundamental in radio and cell phone applications. Hedy once commented "Films have a certain place in a certain time period. Technology is forever." Isn't that the truth!
Grace Hopper:
"Amazing" Grace Hopper was born in New York City in 1906. During World War II, she was a mathematician and mathematics professor at Vassar College before joining the U.S. Naval Reserve where she worked on programming the Mark I computer. After the war, she led the team that created the first computer language compiler and helped to create the COBOL computer language. Grace was also part of the development team for UNIVAC, the first commercially available computer in the US.  Hopper became a rear admiral before retiring in 1986.
One other really cool legacy left by Grace is the Computer Bug. The term "Computer Bug" was coined after she found a real bug inside a computer.  Here's an excerpt from her notes (looks like maybe a moth?):

Grace loved to share her knowledge, and once remarked "The most important thing I've accomplished, other than building the compiler, is training young people. They come to me, you know, and say, 'Do you think we can do this?' I say, "Try it." And I back 'em up. They need that. I keep track of them as they get older and I stir 'em up at intervals so they don't forget to take chances."
Mary Jackson, Dorothy Vaughn & Kathryn Johnson
Mary Jackson, Dorothy Vaughn, and Kathryn Johnson were African American computors for NASA, featured in the recent movie Hidden Figures.  They made the calculations that helped to successfully launch astronaut John Glenn into orbit.  Each of these women is an inspiration in her own right, breaking through the various race and gender barriers placed in their paths.
Katherine Johnson began working for NASA in 1951. Her mathematical capabilities were extremely well trusted.  NASA reported that in 1962, before the launch of the Friendship 7 spacecraft, John Glenn asked for her to re-check the computer calculated trajectory numbers. He reportedly said, "Get the girl, check the numbers. If she says they're good, I'm good to go."
Mary Jackson was NASA's first black female engineer and enjoyed a productive career in engineering for almost two decades. In 1979, she took a demotion in order to serve as Langley's Women's Program Manager in order to work towards hiring and promoting the next generation of NASA's female scientists, engineers, and mathematicians.
Dorothy Vaughn was head of the National Advisory Committee for Aeronautics' (NACA's) segregated West Area Computing Unit from 1949 until 1958 and was both a respected mathematician and NASA's first African-American manager. During her career, Dorothy became an expert FORTRAN programmer as well as contributing to Scout Launch Vehicle Program.
11%? You Can't Be What You Can't See!
These amazing trailblazers are but a few among the unsung sheroes in the history of Information Technology.  But we have a very long way to go to reach any semblance of equality in Cybersecurity, DF, and IR. According to a Global Information Security Workforce Study from the (ISC)2 Centre for Cyber Safety and Education only 11% of cybersecurity professionals are women.  And yet our field is facing an incredible workforce and talent shortage.
Kaspersky recently published a study regarding young peoples career choices, finding that almost 72% of young people have decided their career paths by the age of 16.  Men are more inclined to study pure sciences (49% versus 36% of women) or choose technology-based careers (21% versus 7% of women). Just a fifth (20%) of respondents were clear on what a cybersecurity expert does, including just 16% of young women respondents.
We must do as much as we can to support young girls and women in learning about the opportunities available to them in cybersecurity, digital forensics, and incident response careers. And once they choose this career path we must do as much as we can to support and recognize their achievements.  Female role models are crucial to the future of our field.
And now, I'd like to recognize…
There is a growing number of amazing Women role models in Digital Forensics and Incident Response. Some of these role models are women I've known, worked with, and admired for years.  Some I've only known or known for a short time. If you're on this list, its because you've supported me in in my digital forensics career, either through your technical knowledge, advice, or by inspiring me directly. Some of you are shy. Some are precluded by their position from being directly recognized.  All are incredibly talented, incredibly smart, and incredibly capable. I'm sure to miss someone, and I hope they will forgive my oversight and email me so I can add them to this list.
Each of these women is an amazing role model, actively working in the trenches or in supporting roles, and all have inspired me as well as others in our field:
Heather Mahalik – (@heather Mahalik) SANS Instructor, co-author of FOR585 Advanced Smartphone Forensics, smarterforensics.com
Domenica Crognale –  (@dominica) Co-author of FOR585 Advanced Smartphone Forensics
Christa Miller – (@christamiller)Magnet Forensics and amazing author. Blogger at christamiller.com
Mari DeGrazia – (@maridegrazia) Kroll, blogger at Another Forensics Blog

Sarah Edwards – (@imevltwin)SANS Instructor, author of FOR518- Mac Forensics, and blogger at Mac4N6
Alissa Torres – (@sibertor)USMC Vet, Incident Response Manager, Cargill, Certified DFIR SANS Instructor. Blogger at sibertor.com
Rebekah Brown – (@PDXbek) Rapid 7, SANS Institute
Jessica Hyde – (@b1N2H3X) USMC Vet, Magnet Forensics
Nicole Ibrahim – (@nicoleibrahim) G-C Partners, nicoleibrahim.com
Abigail Abraham – Assistant General Counsel AOL, Kick Butt Prosecutor, Champion Archery Pro
Elizabeth Schweinsberg – (@bethlogic) Incident Response Engineer Facebook
Viviana Ross – (@cricangirl) SANS Institute (and well before!)
Shelly Giesbrecht (@nerdiosity) – Cisco Security Incident Response Services,
Daryl Pfeif – (@darylpfief) Founder & CEO Digital Forensics Solutions, LLC, DFRWS Board of Directors
Susan Widup – (@DFIR_Gecko) Verizon Risk Team. "While you can't fix stupid, you can monitor it."
Jennifer Krueger Favour – (@rednogn)Madison Police Department. (Still the best boss I ever had. And I'm my own boss now!)
Erika Noerenberg – (@gutterchurl) Senior Malware Analyst at Logrhythm, gutterchurl.blogspot.com
Wendi Whitmore – (@wendiwhitmore)Global Lead IBM X-Force IRIS, Formerly CrowdStrike & Mandiant
Jamie Levy – (@gleeda)Volatility Project, Core Developer, Art of Memory Forensics co-author
Mila Parkour – Mobile Malware herder, blogger at Contagio Mobile
Melia Kelly – Girl Unallocated, Managing Consultant, Cyber Risk Solutions Practice, UnitedLex Corporation
Toby Finnie – High Tech Crimes Consortium
Check out some related content on our blog:
https://tetradefense.com/wp-content/uploads/2020/01/Hummingbirds-800x675-1.jpg
675
800
Marlene Jones
http://www.tetradefense.com/wp-content/uploads/2022/02/Tetra-Defense-Logo_Landscape-White-Blue-300.png
Marlene Jones
2016-07-14 01:55:48
2020-04-02 15:37:48
The Buzz About HummingBad
https://tetradefense.com/wp-content/uploads/2020/01/brain-circuit-red-1-1112x675-1.jpg
675
1112
Marlene Jones
http://www.tetradefense.com/wp-content/uploads/2022/02/Tetra-Defense-Logo_Landscape-White-Blue-300.png
Marlene Jones
2016-07-09 20:33:00
2020-04-02 15:33:16
CFAA – Not Just for Hackers Anymore
https://tetradefense.com/wp-content/uploads/2020/01/DFIR-Summit-1-1200x675-1.jpg
675
1200
Marlene Jones
http://www.tetradefense.com/wp-content/uploads/2022/02/Tetra-Defense-Logo_Landscape-White-Blue-300.png
Marlene Jones
2016-07-01 02:34:08
2020-04-02 15:23:14
Experts and Expertise in an Ever-changing Environment